Chin's Wu Zu Qi Tuina Clinic Launch in TTDI   (since beginning February 2016)
56, Jln. Datuk Sulaiman 3, Taman Tun Dr. Ismail, 60000 Kuala Lumpur, Malaysia.
Booking Application for appointments:- http://chinsqituinaholisticcentre.setmore.com/
Treatment at the clinic is to address the pains and aches that many sufferers endure, everyday of their lives, badly affecting their quality of life. We aim to improve our patients' quality of LIFE by taking away the aches and pains from:–
i)     Diabetes & Water Retention
We are NOT going to tell you we can cure this condition, but what we CAN do is alleviate the pain and regress the water retention and swelling, thus improving blood and Qi circulation and keeping away gangrene, amputation, and organ failure.
It is important that medical treatment continues while we provide this service. We have had some diabetic patients in here with legs hard as rock, some still warmish to the touch, some cold as stone, mostly discoloured. We have managed to bring some pliancy back to these patient's legs and kidneys, and get the blood and Qi to circulate better. Please go to Chronicles II Diabetes & Water Retention for more information.
ii)     Scoliosis – This is NOT a disease. It is the unnatural curvature of the spine, forming a "C" curve, or "S" curve.
The most recent Scoliosis cases are that of S. K., a 12 year old schoolgirl, F. Y., a lady in her fifties, and Chloe, a 12 year old girl from Kuantan, whose mother, Michelle, drives her to our KL clinic every Sunday arriving at 12 noon for treatment. Hers was an adolescent idiopathic scoliosis with a very pronounced "S" curve of 50 degrees. They drive back to Kuantan after the treatment.
Her parents already ordered a body brace (to prevent her conditioning from worsening) for her with fitting to be done in 2 weeks when they came first to our clinic.
After 2 treatments, Chloe's spine became almost straight at the top, and after another 2 more treatments, her lower back curve was gone as well. They have expressed their sincere thanks and appreciation.
S. K., had her curvature reduced from 60+ degrees to under 60 degrees, and is now well on her way to around 40 degrees.
A recent case came in with a man in his twenties suffering from a crooked neck on top of the extreme curvature of his spine, allegedly caused by a chiropractor that totally mishandled him. We are moving his neck and spine back into position slowly, as well as his internal organs and viscera which were displaced.
For more information on Scoliosis, please go to Natural Treatment for Scoliosis.
iii)      Multiple System Atrophy (MSA) is an auto immune disease and the body systems fail making the sufferer weaker and weaker as the days go by, losing their sense of coordination, the nerves not working properly, muscles and body strength deteriorate until the sufferer finds it difficult to swallow even liquids (solids are out of the question). The sufferers have no strength and can barely shuffle around if they are still mobile. Many are bedridden and wheelchair bound in the later stages of the disease.
Please go to Multiple System Atrophy for detailed information on MSA and an actual successfully treated case, recently.
iv)    Arthritic knees scheduled for knee replacement surgery out of pain desperation. Utilising Qi to strengthen the tendons and ligaments of the knee, whilst also creating a conducive environment for the knees to produce more synovial fluid, and regenerate the cartilage.
For detailed information on Osteoarthritic knees, please go to Osteoarthritic Knees Symptoms & Treatment.
v)   Slipped discs, sciatica, spondolysis, spondolitis, spinal stenosis, compressed discs and general back pain problems.
For detailed information on Sciatica, please go to Natural Treatment for Sciatica.
For more detailed information on Slipped Disks and Herniated Disks, please go to Slipped & Herniated Disks.
For more detailed information on spondolysis. spondolitis and spinal stenosis, please go to Spondylosis, Spondolitis, Spinal Stenosis.
vi)  Rheumatism and getting rid of Wind and a myriad of other aches and pains from sprains, strains, contusions, old injuries, bruises, joint and tendon problems.
vii)  getting the Qi of stroke victims to circulate effectively, and hence recover quickly and as fully from stroke as possible.
viii)  increasing the body strength of older patients (Geriatrics) who complain of weakness in their joints, limbs or body. Getting their Qi to circulate their body at an effective rate.
ix)  treatment of frozen shoulders, numbness and stiffness of joints, tendons and muscles.
x) treatment of Tendonitis, and trigger fingers, as well as carpal tunnel syndrome.
xi)   treatment of migraine and headaches.
xii)  leveling of hunchbacks (Kyphosis) have been successfully performed on 4 patients so far, from age 29 to 76.
xiii) painless treatment for Rheumatoid Arthritis on patients up to 90 years of age.
xiv)  treatment for all sorts of Sports Injuries
Why suffer EXCRUCIATING PAIN or undergo EXPENSIVE, NON-REVERSIBLE SURGICAL PROCEDURES?? Call us !!
We take away the pain, painlessly, through Wu Zu Qi Tuina and we create conducive conditions for your limbs, tendons, ligaments and cartilage to heal. However, appointments must be made ahead of time as we do not want to jam up the neighbourhood unnecessarily. Please call, SMS or whatsapp:-
a)  +6-012-2895716    K. O. Chin, Founder,
kochin5656@gmail.com
b) +6-012-3732909    Ellen Yeow, Administrator,
yeowyeewei@gmail.com
c)  +6-014-2657505    Chin Wei Sheng, Practitioner,
chin.weisheng@gmail.com
d)  Chin Wei Jin, Practitioner.
chinweijin@yahoo.co.uk
Please whatsapp us or email us if you have any queries, and you are not in Malaysia.
Starting from 1st May 2016
Clinic Hours:-
Tuesday to Friday :- 10 am – 11:30 am, 2 pm – 6 pm, 8:30 pm – 10 pm.
Sat. & Sun :-  10 am – 3pm.
Closed on MONDAYS.
Booking An Appointment
Please go to Chin's Qi Tuina Holistic Clinic to book an appointment. Call Ellen (+6-012-3732909) if you need help with the booking system. We have many references sent to us after treatment from existing patients on whatsapp, and can be shared with all new patients on the whatsapp Qi Tuina group. Here are a few.
Patients' Comments
Dato' Seri Dr. Alif Aiman,"TQ again, Kin Onn n Wei Sheng. The results and improvements are short of bloody dramatic! If I may, before carrying out knee replacement, see K.O. first. Mine were supposed to be a "replacement only cure". After 4 treatments they are 50% to 60% better!"
Ronald Surin,"My wife feels so good after the treatment. Tq Chin & to your son for the wonderful evening with this treatment and knowledge that you shared with us. Its much better on my knees n back. Want to see how long it will last. Thx once again!"
Tony Mariadass,"Thank you, Chin. It was a tremendous relief. Thanks a million!"
Cindy (TTDI),"Mr. Chin, thks so v much for treating my friend, Qinni and I. I could sleep so well after I felt a push of lymph or blood? through my tendon or blood vessels? to clear the 6 yr old remnant pain in my shoulder joint last night while sleeping about 5 hours after your treatment. Your skills are the first I have experienced after various treatments elsewhere. TQVM. Thanks to Ellen for being supportive of your helping people!"
S. Segar,"TQ Chin n Wei Sheng for the treatment you r doing for my wife. It has made a lot of relief for her!"
Cheryl (TTDI),"Somehow you worked your magic – pain n ache is relieved. After years of suffering from side effect from my surgery, my right neck, shoulder, back, n leg r all affected. I am really grateful for Chin n WS's healing hand n I sleep well lately!"
Bokhary,"TQ K.O. Feeling much much better. Bless you and your family!"
Regina Morris,"Hi Mr. Chin, Ellen & Wei Sheng, I can't begin to tell you how amazed and grateful I am that after 2 sessions,the 38 year old injury in my left leg that gradually deteriorated into weak muscles and dark patches on my left is rejuvenating so much so I find I can take the stairs more easily than I could over the last 10 years, and the dark patches are fading off! Although I had originally come to see you for an injury on my other knee, that has healed now, but the miraculous recovery is on my 38 year old injured knee!"
Anthony Tan,"Thank you for the arrangement and the magical Qi Healing, my father and mother have seen improvement after the treatment!"
Jeffrey Chai,"TQ very much K.O. Chin, my left leg has improved a lot, tks again!"
Robert Lim, Senior IT Professional, "Master Chin treated the back of my left knee and lower back. Been having this niggling pain on the knee for months. Unable to exert pressure going down the stairs and slight discomfort whenever I walk. After the treatment, there is no pain walking down the stairs these few days, went for my regular 4 km walk with no pain, and my back is also behaving itself. Thank you sifu Chin, old friend. May you and your family be blessed always!"
Ms. Chow,"Thank you for your treatment. Knees feeling much better!"
Azlan Abdullah,"Thanks KO and Wei Sheng. My headache is gone now!"
Dato' Pardip Kumar Kukreja,"KO, just wanted u and others attending your session to know that my knees feel 70% better. I was at the verge of surgery for knee replacement. Amazing. Chin is true magic. Thank you!"
Nafiz Abdul Rahman,"Thank you, KO, for helping to heal my joints … along with your family's hospitality!"
Ahmad Tarmizi,"Hi KO Chin, just reached home. Thank you for allowing me and son in law for your treatment and special thanks to your son. Grateful for all your expertise! Thank you again!"
Pat Lu TTDI Internet Professional,"Thanks a million KO & Wei Sheng. My shoulder blade feels much better now!"
Chuang Lian Mok, Immediate Past President of Women's Aid Organization "Thank u KO. My stiff neck felt much better now!"
Annie Lim,"Finally I can sleep well. Thank you very much KO & Wei Sheng for easing our pain!"
Benny Toh,"Hi Chin. Thanks to your Qi treatment on my right forearm 3 days ago, I'm now feeling much better. For the last one month with tendonitis, I had pain & difficulty lifting my right arm when I wake up every morning. After your Qi treatment, my arm pain has reduced tremendously & I'm sure it'll continue to heal. Keep up the marvellous work. Thank you again!"
Dato' Tajudeen,"Tqvm KO, son and wife. God bless the family!"
Mr. Kong as reported by Robert Lim,"Kong has a 30 years' old back problem – he usually wakes up every hour every night with pain on the side he is sleeping on and needs to shift position to sleep again, but last night after treatment, still up every hour, but no pain. (out of habit??). The 2nd night after treatment, there was no pain at all, and woke up only once. He sends his grateful thanks!
Kiru – Treasurer of the Multiple Sclerosis Society

"Good morning. My back pain gone after 2 sessions.Left shoulder and hand 80% better and left knee about 50%. TQ.'

Usharani – Nurse "After 3 years of excruciating pain and countless painkillers, I am finally pain-free! Thank you so much."
Safiah – Nurse "Usha recommended me after she was so successfully treated. I am not taking any more painkillers, and I can turn my head and sleep at nights now! Thank you!
Mr. Sim K. K. – Thank you for treating my Multiple System Atrophy these 6 weeks plus. The MSA symptoms are actually regressing, and I am recovered enough to take up my supervisory work again, as well as walk faster, speak much louder, able to swallow solids, sleep well, and have enough energy to live a normal life, and drive myself again!
Michelle & Chloe – Thank you so much for your excellent scoliosis treatment. We really really appreciate what you have done for Chloe.
Charges – Honour System
We were running an honour system for payment since the beginning, where we leave it to the patients to decide how much to pay us, since February 2016.
However, expenses for electricity, water, and generally, has been rising, and this has necessitate us to charge patients for treatment. The poor can still come and get free treatment, but everyone else will pay for the treatment. The honour system has been exploited by a few well-to-do patients in the past, and we found ourselves struggling to make ends meet.
So from August 1st 2017, we are now charging reasonably for every case that comes before us.
Biography of Founder of Wu Zu Qi Tuina – Chin Kin Onn
Kin Onn is a 4th generation Malaysian, hometowned in Kuala Lumpur, from the MCE and HSC education era, fully spent in St. John's Primary and St. John's Institution passing out with a BSc. Econ (HON) with a major in Accounting, from the University of Hull, U.K., in 1981.
Started his working career with Rank Xerox as a salesperson, then worked his way through the rank and file in Hagemayer, WyWy Malaysia, APS Electronics, to the level of General Manager in Mansfield Travel and Mansfield Orchid Travel, then switching industry from Travel to IT, to become the GM of Dataprep Malaysia, and then Dataprep Distribution (Dataprep Holdings listed on the Kuala Lumpur Stock Exchange), Regional Manager in Gemplus (now Gemalto) listed on the NASDAQ,, and then Chief Executive Officer for the Asia Pacific in Prism Transactive which was listed on the Johannesburg Stock Exchange, and later on the NASDAQ.
For a short stint, he was also Chief Operating Officer in MobilityOne, a company listed on AIMS in London. and then worked in Montfort Boys Town ("Those Whom The World Rejects, Must Move You The Most" – St. Louis Marie de Montfort) as Chief Operating Officer. MBT is a vocational institution for underprivileged youth, a charitable body.
Parallel to his public life, he is married with 3 children, 2 sons and a daughter. He was introduced to Wu Zu Chinese martial arts from age 10 in 1969, and has practised it diligently ever since. He was a direct disciple of Master Chee Kim Thong.
Having practised Wu Zu for almost 5 decades, it has given him a solid foundation of Qi, Yi, Keng, physical strength, and "Heavy Hands" to be able to use it at will to treat all the conditions described above. He has been using his skills to treat people on an ad hoc and private basis for these forty over years.
After having seen the terrible pain suffered by so many, he finally decided to open up a clinic to do this full time. He has also passed all his healing skills on to his son & disciple, Wei Sheng, and in the process of doing so to Wei Jin, and in future, Sze Wei, his eldest son, and younger daughter.
Master Chee Kim Thong
Wu Zu is not like most martial arts in that it concentrates on building up Internal Strength rather than physical strength, which deteriorates with age. It originated from the Southern Shaolin Temple in Xiamen province in China, consisting of 5 systems of Southern Shaolin martial arts; Da Mo Qi Gong, Lo Han, Tai Zu, Monkey, and White Crane rolled into one seamless art form.
To learn more about Wu Zu Quan, please go to Wu Zu Quan.
Unlike most Tuina practised by others, which is very physical and painful for the patient, ours is born from the traditional Wu Zu martial arts system, where we learn to absorb, nurture, harness, accumulate, focus and utilize the Qi together with the physical strength and application of such strength and penetration techniques to remove qi blockages in our patients' tissues, muscles, tendons, ligaments, bones, cartilage and joints … the same techniques that were designed for self defence to break, maim and kill by penetrating damage to the internal organs. Ironic !!
These techniques and abilities are acquired through years of training and enables us to utilize Qi in our Tuina, which renders the treatment UNIQUELY painless.
Harmonising the usage of the Wu Zu heavy hand and penetrative techniques with the healing Qi works miraculous benefits in circulating the patients' Qi. The key is not to impart our Qi to the patient although in the short term this makes them feel much better, the "injected" Qi dissipates as it is not their Qi.
Practitioners also need to develop their sense of "feel" and "listen" to the Qi condition(s) of the patient, in order to interact accordingly.
The key is to remove the patients' blockages of the meridians first, then circulate the patients' Qi through the affected areas for the Wu Zu Qi Tuina treatment to be sustainable and really holistic. THERE IS NO PAIN for the patients to endure during Qi Tuina treatment. The patient actually experiences relief from their pain from the 1st treatment onwards.
To know this is simple enough, but many do not practise this. To execute this effectively takes years of dedicated practice of martial arts, Qi Gong and practical Qi Tuina.
Biography of Tyler Chin Wei Sheng, 1st Disciple of Chin Kin Onn
Chin Wei Sheng has been practicing Wu Zu Qi Tuina for over 10 years. He started learning the art when he was being trained in Wu Zu Quan by his father and Sifu, Chin Kin Onn. Initially, he was taught to heal the minor injuries he sustained in Wu Zu Quan training such as bruises, sprains and sores. As his martial arts training progressed, he was slowly introduced to the more serious injuries such as shifted tendons and trauma to the joints with the use of Qi and Tuina techniques.
After winning 2 gold medals and a silver medal at the International Southern Shaolin Wu Zu Quan Tournament 2011 in Quanzhou, Fujian Province, his training started to focus more on the development of Qi and learning to use the focus of the mind "Yi"to "feel" injuries and manipulate Qi to access the damaged areas/ blockages in order to create a condition for the body to heal.
Wei Sheng now practices Wu Zu Qi Tuina treatment as well as instructs Qi Gong classes in Taman Tun Dr. Ismail every Wednesday night from 8:30pm to 10:00pm. at the same venue as the Clinic.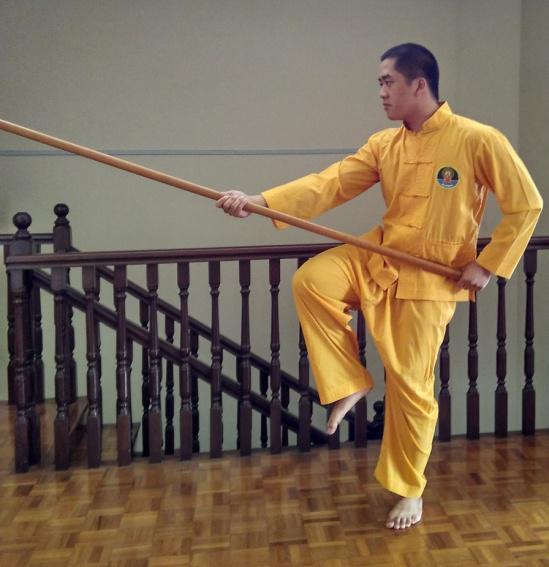 Strength, Keng, Yi, Qi & Wu Zu
In Chinese martial arts, Qi is the 4th level and is the minimum level that should be attained before an exponent can start accepting and teaching students. The first level is building up physical strength, the 2nd level is "Keng" how to unleash this physical strength, the 3rd level is mental concentration or focus "Yi", how to focus your strength and the 4th level is "Qi", how to harness the Life Force, and use it to heal, or otherwise.
It is when an exponent has attained at least level 3 that he can start training for effective actual Qi Tuina in our Wu Zu Qi Tuina methodology.
The Wu Zu Qi Tuina practitioner first utilizes the Wu Zu "Keng", "Yi" and "Qi" to unblock the patient's Qi passages and meridians at the affected areas, then uses the Heavy Hand technique and Qi to "push" the patient's Qi to circulate properly.
Once the patient's Qi circulates properly, and in large enough volumes, then that part of the body has created a conducive condition for the body tissues to heal whether they are ligaments, tendons, muscles, joints, bone and cartilage. The treatment is always soothing and no pain is involved.
We teach simple non-strenuous little exercises for the patient to maintain this conducive condition as long as possible for optimal healing. There are no side effects as no medicines or medication are prescribed. Wu Zu Qi Tuina is therefore 100% Holistic and Natural, and Non-Invasive.
Multiple Sclerosis link for more information on MS.
Natural Treatment for Scoliosis link for detailed information on Scoliosis.
Osteoarthritic Knees Symptoms & Treatment link for detailed information on osteoarthritic knees.
Natural Treatment for Sciatica link for detailed information on Sciatica.
Slipped & Herniated Disks link for detailed information on Slipped Disks & Herniated Disks.
Spondylosis, Spondolitis, Spinal Stenosis link for detailed information on these conditions.
Multiple System Atrophy (MSA) link for detailed infomation on MSA.
Kyphosis (Hunchback) link for detailed discourse on Kyphosis.
For Rheumatoid Arthritis please click here for detailed information on RA.
For appointments, please go to Chin's Qi Tuina Clinic.